Damaged or discoloured furniture, tired sagging sofas, and chairs. Don't replace it, contact Focus to repair or restore your furniture for a fraction of the cost of replacing it. We offer a range of furniture repair services covering fabric and leather furniture repairs, cabinet repairs and bed repairs.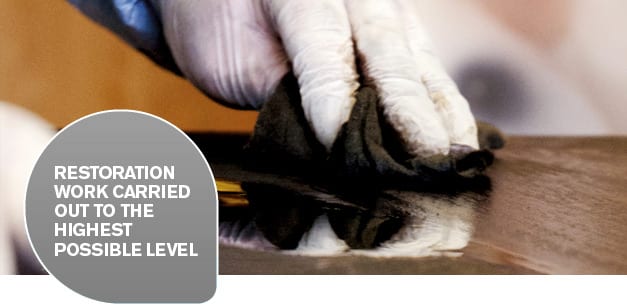 2. Visit
Our technican will visit your property, and view your damaged furniture.
3. Repair
The technician will tell you the problem, and fix onsite or repair in our studio.
4. Test
Your furniture is then tested and a furniture repair report is written up.

Bed Repairs
All of our technicians are trained to carry out all types of repairs on beds. The repairs include replacing tuffs, re-dowling broken framework, re-sewing broken stitching and changing any mechanical parts. We are also trained to check for the tolerance of mattress' durability.
• Wooden, leather or vinyl frames
• Upholstered beds
• Motion furniture repairs
• Remanufacturing

Fabric Repairs
All of our technicians are fully trained upholsterers with over 8 years' experience. We are able to carry out repairs to all upholstery including re-springing, changing any broken frame parts, re-webbing, changing zips, foams and any sewing required.
• Recover
• Pet damage
• Tears
• Stitching
• Cigarette burns
• Ink / Stain removal
• Mechanical work (eg. recliners)
• Resizing

Cabinet Repairs
We offer an onsite repair to all cabinet damage whatever the problem may be. We are constantly improving our products and training so that every repair can be completed in the home.
• French polishing
• Traditional finishes
• Modern synthetic finishes
• Natural timbers
• Veneers
• Laminates
• Expert advice for maintenance
• Disassembly and reassembly
• Hinges
• Drawer runners

Leather Repairs
Common problems such as tears, scratches, scuffs, burns or stains on your leather suite do not mean that you have to throw it away. For a fraction of the cost of replacing it, the leather sofa can be restored. If your leather sofa has started sagging or gone flat through general use we can add extra fillings to the seats, back and arm cushions to make your sofas as good as new.
All of our technicians are fully qualified to repair leather and are able to repair faults including burns, tears, scratches, colour loss and any other issues.
• Recover
• Tears
• Stitching
• Colour matching
• Cigarette burns
• Ink / Stain removal
• Mechanical work (eg. recliners)
• Interiors (see Additional Services)
• Pet damage
• Resizing